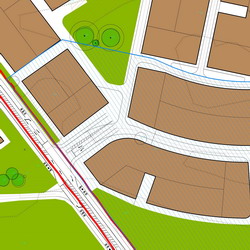 Wild Frontier Ecology is practiced in advising on any scale of project involving built development. We have specialist knowledge of the surveys and assessments required for renovations, conversions and new builds. Ideally we work with a client from the early stages of a proposal, advising you (through a Preliminary Ecological Appraisal, and Ecological Constraints and Opportunities mapping) of potential issues, running scoping consultations, and producing ecological assessments for planning purposes. For larger developments there will often be a requirement for a Construction Environmental Management Plan, and after construction for a Landscape and Ecology Management Plan.
All necessary protected species surveys for developments are undertaken. We have significant experience in assessing development on both brown and green field sites, and provide the ecology section of the BREEAM and Code for Sustainable Homes assessment. Our output adheres to BS42020:2013.
Built Development Services
Ecological constraints and opportunities mapping (ECOP)
Phase 1 habitat survey
Bat and barn owl survey
Other protected species surveys including mammals and great crested newt
Invasive species survey
Ecological Assessment Reports
Construction Environmental Management Plans (CEMP) and Landscape and Ecology Management Plans (LEMP)
Project Examples
Site survey, assessment and CEMP for a thousand home development proposal in Norwich. The site is curerently a golf course, so WFE had to work closely with the site owners to organise timely access for surveys. The site held several bat roosts, and contained a number of mature trees, as well as a small badger sett. The client was informed by an Ecological Constraints and Opportunities Plan, and designed the development with constraints in mind. Planning permission was given and the first phase of construction is due to start shortly.
Restoration of derelict barns in North Norfolk, for conversion into residential accommodation. WFE undertook an initial assessment followed by protected species surveys for bats and barn owls, and following planning permission, worked closely with the developer to obtain an EPS licence for the bats roosting within the main barn. A nearby pond was also surveyed for great crested newts, although none were found, and thus removed the need for further consideration of this species.