Wild Frontier Ecology provides professional tree surveys in Norfolk and across East Anglia to suit a range of needs. Where possible our tree surveys take place at the same time as our ecology surveys, resulting in savings for our clients and joined up advice for your project.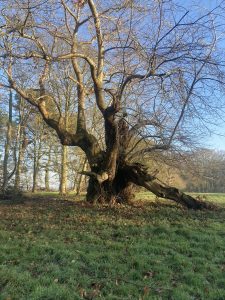 Our full range of tree surveys include:
British Standard 5837:2012 'Trees in relation to design, demolition and construction' development surveys and associated reports such as Arboricultural Impact Assessments, Tree Protection Plans and Arboricultural Method Statements for planning, click here for more information on trees and development services
Ground level and aerial bat roost appraisals and survey
Tree health and safety inspections including detailed individual tree inspections or tree population inspections
Specialist advice on protected trees with Tree Preservation Orders (TPOs) or in a Conservation Area
Surveys of ancient/veteran trees in accordance with the Veteran Trees Initiative's Specialist Survey Method
Woodland management plans
Ground level and aerial bat roost appraisals
Wild Frontier Ecology has two trained climbers with Level 2 certificates in Tree Climbing and Aerial Rescue. Our climbers are also first aid trained and insured, and one holds a Natural England Level 2 bat licence. We are able to climb trees throughout the year to inspect niches that may be suitable for bats, allowing trees to potentially be ruled out from needing seasonally restricted nocturnal dusk/dawn emergence surveys.
Tree surveys for health and safety
Our Arboriculturist at Wild Frontier Ecology can undertake health and safety inspections of individual trees or populations of trees to advise landowners or managers on how to responsibly care for them. Such inspections can be useful for example when considering the purchase of a property with one or more existing trees. If you are already a tree owner or manager then thorough and regular inspections will ensure that you are fulfilling your duty of care to take all reasonable steps to prevent trees from posing an unacceptable risk to persons or property under the Occupier's Liability Act 1957 and 1984.
Our quality tree surveys can assess the condition of trees and give advice on management if required. As a consultancy, we do not undertake tree work ourselves, therefore our recommendations and advice are always in the best interest of the tree and its environment. Tree work is only advised where absolutely necessary and in accordance with arboricultural best practice. If tree surgery is advised we can collaborate with trusted local tree surgeons to ensure high quality results.
All our surveys and reports are in line with current arboricultural best practice and research, in particular, the best practice set out by the British Standard 3998:2012 Tree work – Recommendations and Visual Tree Assessment methodology. Arboricultural and wildlife legislation advice comes as standard in our reports.
Tree Preservation Orders and Conservation Areas
Wild Frontier Ecology can provide advice on how best to manage protected trees, such as those covered by a Tree Preservation Order or Conservation Area. Once the tree has been inspected, we can help you submit an application or notification to the Local Planning Authority to allow works to be legally undertaken to such trees.
Ancient and veteran trees
Ancient and veteran trees are extremely important as historical features in our landscape and for the unique habitats they offer to wildlife. They often have particular management needs due to their sensitivity to any changes in their environment and due to past management practices such as pollarding.
WFE can survey ancient and veteran trees in accordance with English Nature's (now Natural England) Specialist Survey Method. Our combined expertise in arboriculture and ecology means we can provide a comprehensive assessment of each tree's habitat value for fungi, epiphytes such as lichens and moss, invertebrates, birds and mammals (including bats). Wild Frontier Ecology's Director is the county lichen recorder for Norfolk. We can then also consider the tree's health and safety and provide management recommendations that take account of each tree's unique situation.
Please see here for a recent example of an ancient and veteran tree survey WFE carried out in Norfolk.
Woodland Management
As a Consultancy with a blend of arboricultural and ecological expertise, Wild Frontier Ecology can provide advice on how to best manage woodlands in a way the maximises their ecological value. We can carry out woodland surveys to assess ecological value and then produce a Woodland Management Plan setting out detailed recommendations for long term future management. If planning a new woodland, we can also advise on design, particularly species selection, that takes accounts of each site's soil conditions, objectives and the likely impacts of climate change.