Wild Frontier Ecology provides professional tree surveys to suit a range of needs. These can include surveys to assess the health and safety of trees, specialist advice on protected trees or ancient/veteran trees, woodland management plans or surveys to guide and inform development proposals.
If required our arboricultural surveys can take place at the same time as our ecological surveys, resulting in savings for our clients.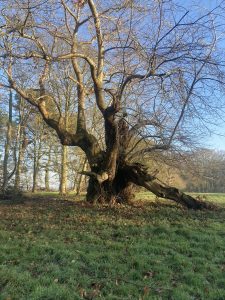 Our full range of arboricultural services include:
Detailed inspections of individual trees
Inspections of larger tree populations including mapping and management recommendations
Specialist advice on protected trees with Tree Preservation Orders (TPOs) or in a conservation area
Surveying of ancient/veteran trees according to the Specialist Survey Method
Woodland management plans
Bat roost appraisals and surveys
Advice on carrying out construction next to trees which would be classified as permitted development (driveways, small extensions etc)
BS5837 surveys and reports for planning, click here for more information on trees and development services
Ancient and veteran trees
Ancient and veteran trees are extremely important as historical features in our landscape and for the unique habitats they offer to wildlife. They often have particular management needs due to their sensitivity to any changes in their environment and due to past management practices such as pollarding.
WFE can survey ancient and veteran trees in accordance with English Nature's (now Natural England) Specialist Survey Method. Our combined expertise in arboriculture and ecology means we can provide a comprehensive assessment of each tree's habitat value for fungi, epiphytes such as lichens and moss, invertebrates, birds and mammals (including bats). We can then also consider the tree's health and safety in the landscape and provide management recommendations that take account of each tree's situation. Retaining these trees safely and for the benefit of all the species (including humans!) that depend on them is our passion.
Please see here for a recent example of an ancient and veteran tree survey WFE carried out in Norfolk.
Tree inspections for health and safety
Our experienced team at Wild Frontier Ecology can undertake health and safety inspections of individual trees or populations of trees to advise landowners or managers on how to responsibly care for them. Such inspections can be useful for example when considering the purchase of a property with one or more existing trees. If you are already a tree owner or manager then thorough and regular inspections will ensure that you are fulfilling your duty of care to take all reasonable steps to prevent trees from posing an unacceptable risk to persons or property under the Occupier's Liability Act 1957 and 1984.
Our quality tree surveys can assess the condition of trees and give advice on management if required. As a consultancy, we do not undertake tree work ourselves, therefore our recommendations and advice are always in the best interest of the tree and its environment. Tree work is only advised where absolutely necessary and in accordance with arboricultural best practice. If tree surgery is advised we can collaborate with trusted local tree surgeons to ensure high quality results. We can also help prepare applications to local planning authorities for consent to carry out work to protected trees (with Tree Preservation Orders or in a conservation area).
For large numbers of trees, Wild Frontier Ecology can carry out ground level visual tree assessments, looking for any cavities, cracks, fungal fruiting bodies and canopy decline. Results can then be compiled in a tabular format with a corresponding map identifying the trees' surveyed. For smaller numbers of trees, a more detailed survey may be appropriate. These would consider each tree's structural and physiological health, checking for common pests and pathogens, structural defects, soil environment and internal decay in addition to an assessment of any nearby targets that the tree might pose a risk to.
We are happy to provide advice on which survey you may need over the phone or via email.
All our surveys, reports and recommendations are in line with current arboricultural best practice and research, in particular, the best practice set out by the British Standard 3998:2012 Tree work – Recommendations and Visual Tree Assessment methodology. Arboricultural and wildlife legislation advice comes as standard in our reports.
Wild Frontier Ecology is registered with the Chartered Institute of Ecology and Environmental Management (CIEEM) and we also have a fully qualified Arboriculturist who is a Professional Member of the Arboricultural Association. Our mix of ecological and arboricultural expertise ensures the wildlife value of trees is always considered as standard as part of our health and safety surveys.
Woodland Management
As a Consultancy with a blend of arboricultural and ecological expertise, Wild Frontier Ecology can provide advice on how to best manage woodlands in a way the maximises their ecological value. We can carry out woodland surveys to assess ecological value and then produce a Woodland Management Plan setting out detailed recommendations for future management. If planning a new woodland, we can also advise on design, particularly species selection that takes accounts of each site's soil conditions, objectives and the likely impacts of climate change.
For information on our tree surveys for planning and development please click here.